Looking for an Elite Wedding Band in Switzerland?
Hire A Wedding Band in Switzerland, Jam Hot!
Introducing Jam Hot, a spectacular English Wedding Band in Switzerland.
Get your free no obligation quote!
About Us
The Top Swiss Wedding Band, From Bern To Zurich.
With impossibly high, snow-capped mountain ranges and gorgeous alpine meadows, there is nothing quite like a destination wedding in Switzerland. However, there are quite a few logistics involved to plan the perfect Swiss Wedding. Jam Hot, an English Wedding Band in Switzerland, will relieve any potential stress and help you create the most memorable day of your entire life!
More than just a band, Jam Hot Wedding Band in Switzerland are elite professionals who know how to put on the best show in the world. This exceptional Swiss Wedding Band features up to twenty-one separate professional performers on stage, giving you the best in luxury Wedding Entertainment. With astonishing live shows and years of experience in performing all over Europe, they're the top pick for Swiss Wedding Planners.
These sensational musicians are renowned for creating an unforgettable party atmosphere in the shadows of the Alps, and their multi-award-winning live show has to be seen to be believed!
"Unparalleled unrivalled unbelievable"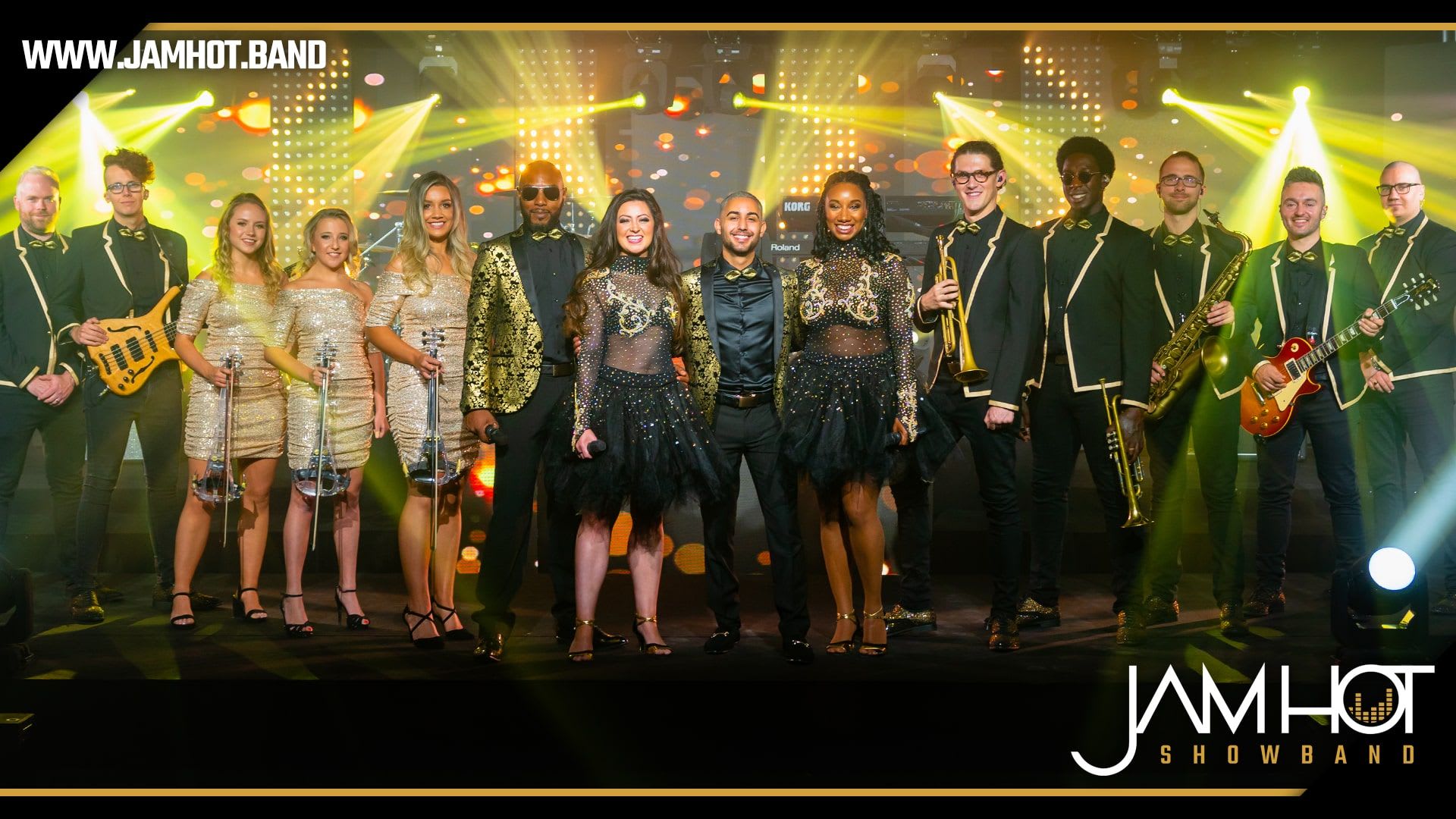 Line Up
Band Line-up Options
The musicians - choose your line-up from the options below, Jam Hot recommend adding horns and strings to their performance to really create their full concert experience.
LINE-UP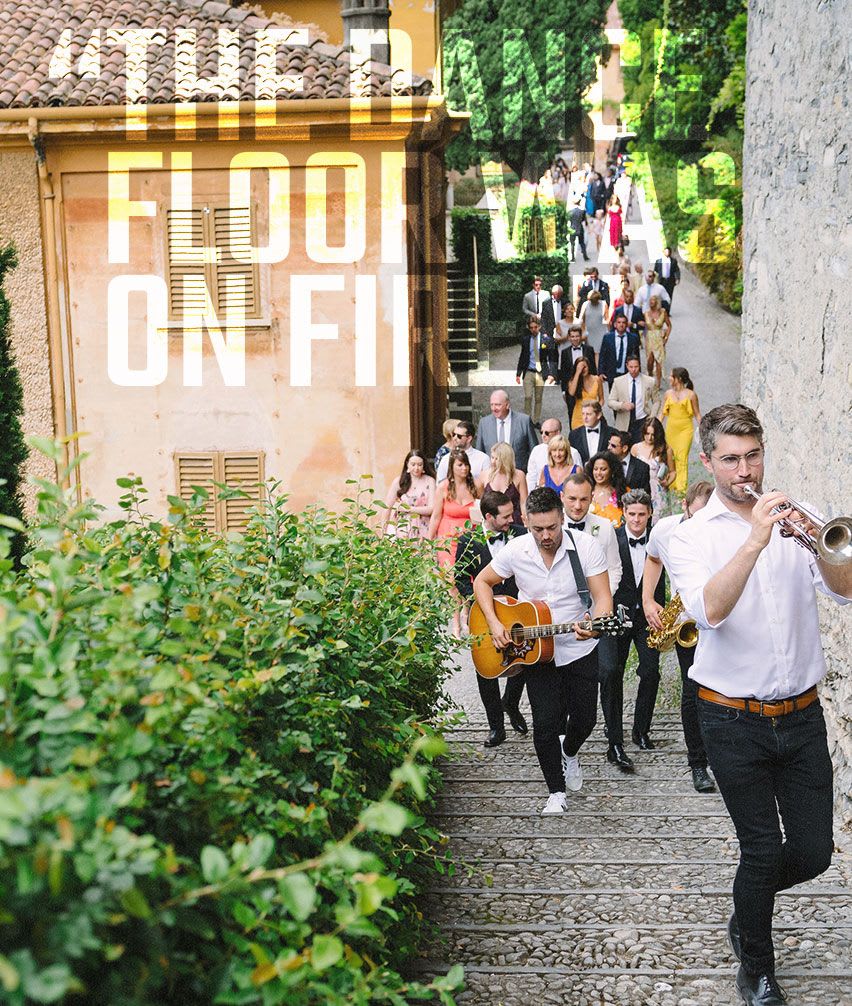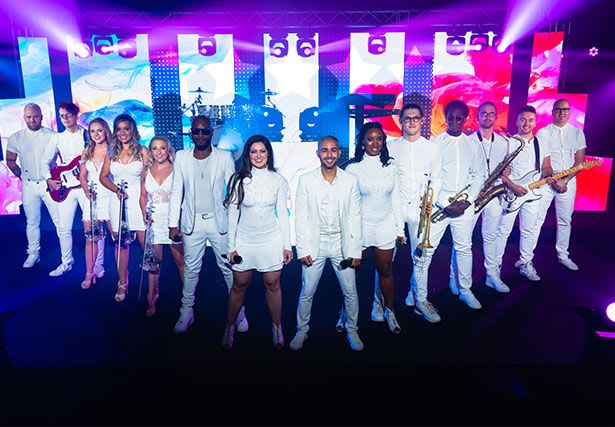 Hire A Wedding Band In The Swiss Alps - Jam Hot!
Jam Hot is a world-renowned 8–21 piece Switzerland Wedding Band based in the UK. With a perfect 5-star rating they are the best in Wedding Entertainment in Switzerland. Jam Hot will welcome your first guests and family with elegant background music. After they play you down the aisle, they will take to the stage for their 2 hour plus crowd-pleasing, blisteringly impressive medley of some of the top music of all time.
Jam Hot are masters of a plethora of styles from Rock and Pop, to RnB, Dance, Motown and Soul. Their spectacular medleys include scalding hits from such time-honoured artists such as: Justin Timberlake, Queen, Tina Turner, Beyonce, Stevie Wonder, Michael Jackson, Bruno Mars, and many, many more! This elite supergroup of musicians is at the top of the wedding performance game, and have travelled extensively throughout this stunning country to provide the most luxurious live Wedding Entertainment in Switzerland. They are known by top Wedding Planners as the most exceptional Wedding Band in the Alps, and are the first choice when perfection and professionalism are required.
Their skilled vocalists, showmanship and magnetism will draw your guests onto the dance floor. Alongside their blistering horns and beautiful strings, they will be jumping on and off the stage to interact with your guests and immerse them into Jam Hot's extraordinary world. Topped off by full choreography, professional lighting rigs and slick costumes, you and your guests will experience a Las Vegas style spectacle the likes of which are unmatched by any other showband. Jam Hot are top tier professionals and surely the top Wedding Band in Switzerland. Their performance will create memories for your guests that will last a lifetime.
Get Quote!
Top Switzerland Wedding Band
Jam Hot Is The Biggest Name In English Wedding Entertainment Switzerland.
After the romantic profession of love and commitment of your wedding ceremony, every one of your family and closest friends will be ready to let loose and celebrate your love as the sun starts to go down! Jam Hot Wedding Entertainment Geneva are the professionals you need, with the proven ability to guide you every step of the way for your bespoke Wedding Band Switzerland experience.
As a class act, Jam Hot has a keen eye to detail, and they want you to have a day of love and laughter without any stress or worry when it comes to entertainment. From elegant string players or vocals/piano to play you down the aisle, through to a full acoustic band to entertain your guests during your cocktail reception in the shadows of The Alps – Jam Hot offers a bespoke package that will suit your vision to perfection.
From the arrival of your guests until the final dance Jam Hot English Wedding Band in Switzerland will work alongside you to plan the perfect day. With a bespoke experience, every element from the setlist to the performers' costumes is customizable and designed to give you the dream wedding you have always wanted. When you hire a Wedding Band in Zurich, or you Hire a Wedding Band in the Alps, Jam Hot will exceed your expectations. When you Hire Jam Hot Wedding band in Bern, or anywhere across Switzerland, you can be sure that your destination wedding is in the best possible hands.
Watch Jam Hot In Action
Jam Hot Medley Selection
Jam Hot's high-impact setlist is full of spectacularly arranged medleys that move your guests from one blazing hit to the next - all night long!
Jam Hot's Songlist
Performance Map
The UK's Premier Live English Wedding Band In Switzerland Knows How To Throw A Sensational Party!
When you Book a Wedding Band in Switzerland, you are not only hiring the best Wedding Band in Europe, but you are guaranteeing peace of mind. Jam Hot are the ultimate performance group, a multi-award-winning 5-star troupe of musicians who specialize in curating memories. They'll leave you and your guests buzzing with joy as you sing along to the smash hits of today and yesterday.
With the feel of a full Las Vegas show, this luxury entertainment crew is a perfect storm of talent and expertise. Jam Hot sets the bar to new heights in Switzerland Wedding Band Music. Jam Hot's choreography, along with their sassy audience participation, will create a brilliantly good time for the ages. Switzerland Wedding Band Music doesn't get any better than this!
Often flying around Europe and The World, Jam Hot are regularly seen also performing in Austria, France & Belgium!
The Premier Choice For The Number One Rated And Most Trusted In Swiss Wedding Band Music.
When it comes time to Hire a Wedding Band Bern, you need a preeminent group that you can trust to follow through with their professionalism, and who will guarantee nothing but the best on your wedding day. Jam Hot is a trustworthy Limited Company. They have the honour of maintaining a 5-star rating throughout their entire performance career. From beginning to end, Jam Hot will provide assistance and guide the way to an unforgettable wedding experience. Their knowledgeable, committed team are experts in planning Swiss Wedding Band Music. They will work with you every step of the way to ensure you feel comfortable and confident as well as extremely excited about what should be one of the best days of your life!
Jam Hot will go out of their way to provide you with a carefully curated, wholly unique Switzerland Wedding Entertainment experience that puts them at the forefront of Europe's live music performers. Jam Hot are stage ready, time tested, and true. After your initial contact with this Wedding Band Bern, Jam Hot will be your nearest and dearest ally in the planning and execution of your dream wedding here in Switzerland.
As a part of their bespoke planning experience, this English Wedding Band in Switzerland will do whatever it takes to design the perfect performance for your venue and within your budget. Working with trusted vendor Artisan Productions, they can bring even more excitement to your wedding with the addition of party equipment such as, staging, LED dance floor, dry ice, LED video walls, lighting, and more!
"Jam Hot are the easiest recommendation I have ever made. Flexible, collaborative and brilliant to do business with comes as standard. But all that aside, musically, they are simply incredible. Beyond being entertained, my guests were literally in love with them and the dance floor was on fire. Feedback included comments like 'I'd pay to see them in convert'. I'm already looking for excuses to hire them again. Any doubts, give me a call."

"Paul and Jam Hot were an absolute dream to work with. They were professional but warm during all of our pre-event communication. Paul was quick to respond and offer suggestions and was extremely flexible and accommodating. Also, they presented a killer show! Our guests were a mixture of nationalities and their music brought everyone to the dance floor. Also, they didn't just stay on the stage, they were in the crowd bringing the dance floor to us. They were just spectacular. I recommend them highly and would hire them again in a heartbeat"
More Reviews
Client Reviews
Reviews
Searching For Professionalism And Support? Hire Jam Hot, The Elite Wedding Band Switzerland.
Book Jam Hot
Once you have decided to book the most amazing English Wedding Band in Switzerland, you are ready to work with Jam Hot – they'll guide and assist in creating an unforgettable wedding day. As specialists in their trade Jam Hot Wedding Entertainment Switzerland has the years of experience to ensure they never let you down but only raise you up and help you at the start of your journey through life together. With a massive range of performance and production options available, this talented Live Wedding Band Switzerland will talk you through every element to ensure nothing is missed or overlooked.
When it comes time to book a Wedding Band in Switzerland, the process is easy. You only need to put down an initial booking deposit, and you will be on your way to having the best Wedding Band Zug perform at your wedding. This first payment leaves you ready to get planning with the top Live Wedding Band Switzerland. The booking process is easy, and that initial booking payment promises a secure contract that provides the peace of mind you need to get ready for the biggest day of your new lives together.
If you are looking to get in contact with Jam Hot to hire a Wedding Band in Switzerland, you have a few easy and simple methods to choose from. The online Live Chat function is available in order see if Jam Hot are available for your special day, and to confirm and lock in your date if it is available. There is also an easy to use form on the website you can fill out to receive a no-obligation quote if you prefer. Lastly, you can quite easily email or call them to speak to a booking agent about your query.
Get in touch today
Now's the time to hire your perfect Swiss Wedding Band!
Get Quote!