Luxury Wedding Band for USA & Americas
Jam Hot - UK's finest Wedding Band For Hire in America
Welcome to Jam Hot, the world renowned Show Band for hire USA
Get your free no obligation quote!
About Us
Jam Hot Premium America Wedding Band For Hire Is Known All Over The World
It's no secret that planning a wedding takes a whole lot of love. From choosing your theme and colour palette, to picking out caterers and bridesmaid dresses - there are a lot of important decisions to make and a lot of ground to cover.
One of the biggest things to get right, is deciding upon the perfect entertainment. This is where the USA Wedding Band for hire, Jam Hot comes in! This phenomenal 8-21 piece travel throughout America delivering exceptional entertainment with their multi award-winning live show.
"Unparalleled unrivalled unbelievable"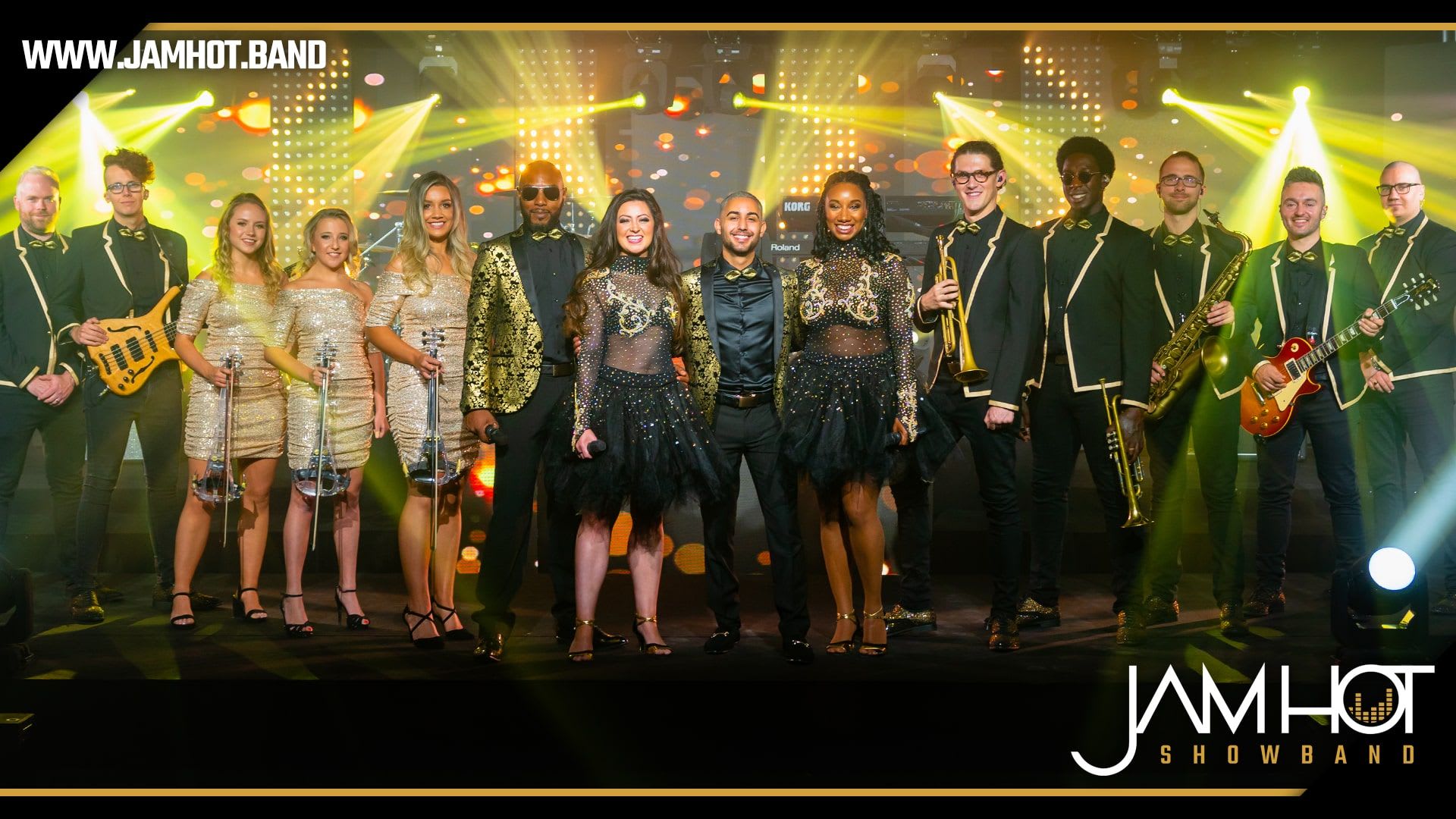 Line Up
Band Line-up Options
The musicians - choose your line-up from the options below, Jam Hot recommend adding horns and strings to their performance to really create their full concert experience.
LINE-UP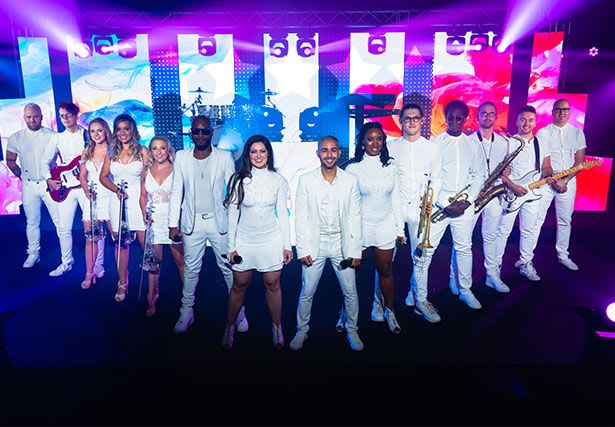 Book The USA Wedding Show Band , Who Do It All
Jam Hot Wedding Band For Hire America are an exceptional 8-21 USA Wedding Show Band. Although based in the UK, this extraordinary collective regularly travels all over the world to deliver their multi award-winning live shows for luxury weddings. Jam Hot are called when only perfection will do, and these elite musicians receive nothing less than a 5* Rating from every single couple and event planner they have the pleasure of working with.
Jam Hot plays a high-impact show that is perfect for guests of any age and nationality. Encompassing pop, rock, Motown, funk, dance, soul, RnB and hip-hop; every guest will be thoroughly entertained by these stunning musicians. This truly jaw-dropping show features hits from the biggest musical artists of all time, including Stevie Wonder, Tina Turner, Beyoncé, Bruno Mars, Ed Sheeran, Justin Bieber, Michael Jackson, Amy Winehouse and Justin Timberlake.
Not only is the music world-class, but so is the whole package. With no less than 4 breathtaking vocalists fronting every performance, plus full choreography, stunningly bespoke costumes and tons of audience participation - a party with Jam Hot is an immersive feast for the senses.
Get Quote!
Top American Wedding Band
Your Dream Reception With Jam Hot Wedding Band America
Jam Hot knows the importance that your wedding holds for you, and they guarantee to surpass even your wildest expectations. From their powerful showmanship on stage, to their organisation and attention to detail behind the scenes; you will be blown away by the sheer professionalism of this experienced American Wedding Band.
Not only is your evening covered by Jam Hot - but your whole day's live entertainment is too. The top quality musical options are endless, and include gorgeous live String Players for your wedding ceremony, acoustic soloists/duos and trios for your drinks reception - or even full band 'live-lounge' performances. You can even upgrade to Jam Hot's live Pro DJ to have the soundtrack to your wedding reception mixed live for you while the band aren't on stage.
WATCH JAM HOT IN ACTION
Jam Hot Medley Selection
Jam Hot's high-impact setlist is full of spectacularly arranged medleys that move your guests from one blazing hit to the next - all night long!
Jam Hot's Songlist
PERFORMANCE MAP
Book The Best In Live USA Wedding Entertainment, All Year Round.
This exceptional USA Wedding Entertainment is composed of full time musicians who are at the top of their game. No matter the time of year, or your home State, these consummate professionals are available to deliver the wedding of your dreams. Leaving 5* Star reviews wherever they travel, this elite unit promises to create a legendary party for you and your guests, that surpasses all expectations.
Nothing but the best will do, so Jam Hot will not simply stand on stage and perform a few songs - they are a full stage show that is full to the brim with breathtaking medleys, sassy choreography, contemporary costumes, powerful showmanship and lots of audience participation. These talented musicians will draw your guests onto the dance floor and immerse them in their extraordinary world - creating lasting memories that will be treasured forever.
When not performing in America, Jam Hot can regularly be seen in the UK, Europe, Middle East & UAE or even on Tropical Islands performing as Destination Wedding Band!!
Guaranteeing To Deliver Pure Magic On Your Wedding Day.
Jam Hot Wedding Show Band America appreciates how much time, energy and love goes into planning your Wedding Day. Endless lists, research and wedmin will be carried out so you have a plan for each and every element of your day. It goes without saying then, that you want to hire the best suppliers, who are trusted and experienced - after all, these are the people who will be helping to turn your dreams into reality.
Jam Hot is a reliable Limited Company who are well known throughout the world for delivering top quality live USA Wedding Entertainment. Not only are they flawless on stage, but their attention to detail behind the scenes makes them the perfect choice for helping your unique dream come true.
"Jam Hot are the easiest recommendation I have ever made. Flexible, collaborative and brilliant to do business with comes as standard. But all that aside, musically, they are simply incredible. Beyond being entertained, my guests were literally in love with them and the dance floor was on fire. Feedback included comments like 'I'd pay to see them in convert'. I'm already looking for excuses to hire them again. Any doubts, give me a call."

"Paul and Jam Hot were an absolute dream to work with. They were professional but warm during all of our pre-event communication. Paul was quick to respond and offer suggestions and was extremely flexible and accommodating. Also, they presented a killer show! Our guests were a mixture of nationalities and their music brought everyone to the dance floor. Also, they didn't just stay on the stage, they were in the crowd bringing the dance floor to us. They were just spectacular. I recommend them highly and would hire them again in a heartbeat"
More Reviews
Client Reviews
Reviews
A Sublime Choice, Who Will Support You Every Step Of The Way.
Book Jam Hot
An elevated level of care awaits you when you get in touch with Jam Hot. With their dedicated team of experts specialise in planning American Wedding Band Music, they will hold your hand every step of the way ensuring nothing is left to chance, and all of your plans are in place to the highest quality.
With a concise and easy to navigate booking process, you will enjoy choosing from Jam Hots' huge assortment of performance and production options in order to tailor your perfect USA Wedding Entertainment package. Use their instant Live Chat function to see if they're available for your date, or fill in their quick online form to receive a no obligation quote.
Book Jam Hot
The Best Choice For Wedding Band Hire America
Get Quote!