Are you looking for a France Wedding Band in Cannes?
Book Wedding Band in France, Jam Hot!
This is Jam Hot, the preeminent France Wedding Band for hire.
About Us
The Height of Luxury - Jam Hot is the France Wedding Band You Didn't Even Know You Needed.
With some of the most breath-taking views and vistas in the world, France is a top destination for couples looking for a romantic place to tie the knot! You may be born and raised in this gorgeous country, or perhaps just visiting your closest and dearest loved ones to celebrate the most important day of your life. Either way, from Bordeaux to Marseille the planning of your wedding can be a stressful time.
However, supergroup Jam Hot, an English Wedding band in France, can be your guaranteed guide for stress-free entertainment as they bring an elite level of professionalism and 5-star multi-award-winning musicians to your wedding. When it comes to the celebration and profession of you and your partner's undying love for each other, you should have the bar set to the highest level of celebration.
By Hiring Live Wedding Band France Jam Hot, you are entering into a contract with a premier France Wedding Band that can amp up your party and kick it up 1000 notches! These folks are the ultimate party coordinators! Their band features between 10 and 21 different performers, 4 vocalists, a string and brass section, and professional choreography. They'll ease your guests into the party, play you down the aisle and then ratchet it up to some next-level dance floor magic as this award-winning crew drives your reception late into the night. Jam Hot are the Wedding Band to Hire in Nice!
"Unparalleled unrivalled unbelievable"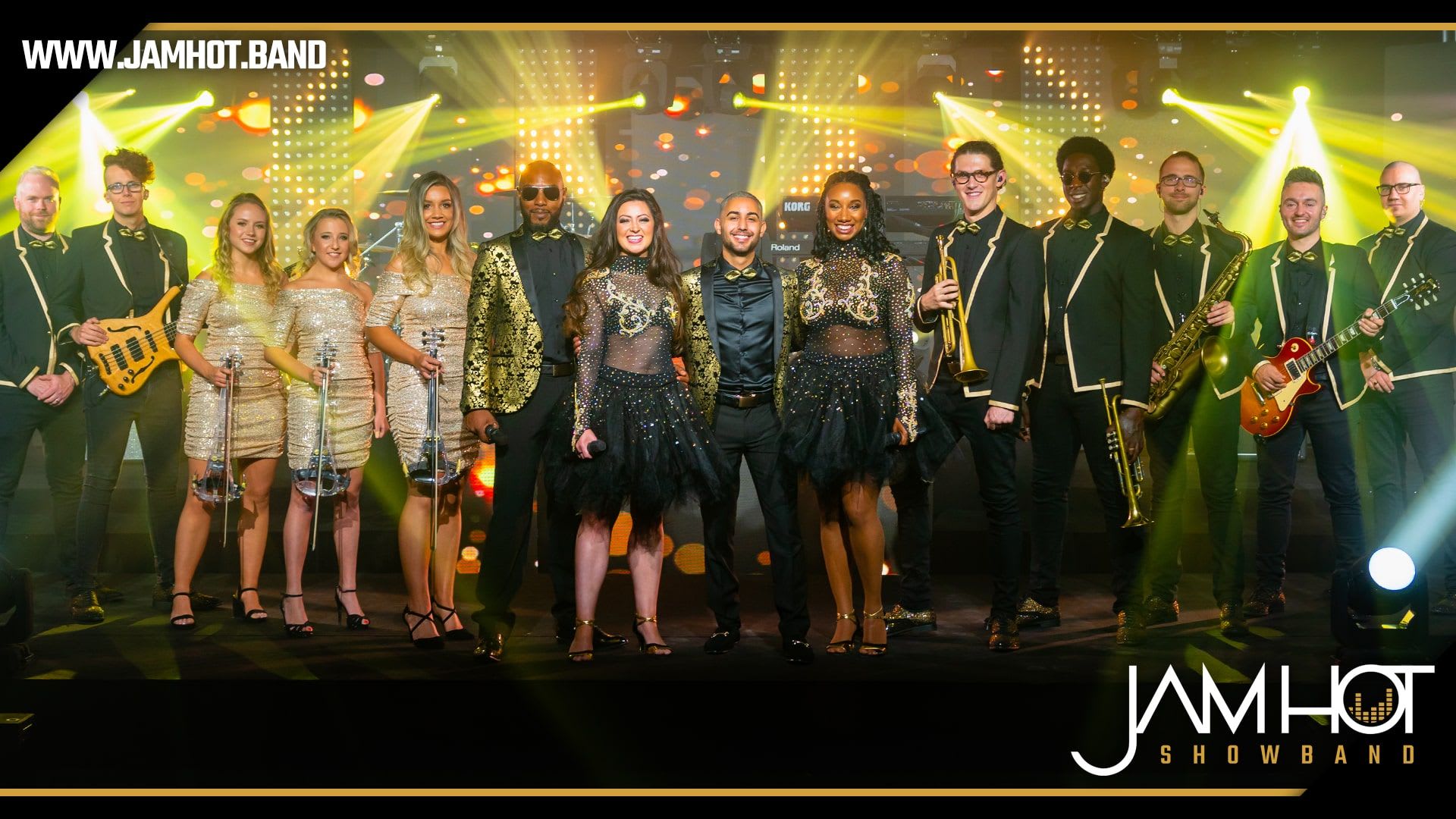 Line Up
Band Line-up Options
The musicians - choose your line-up from the options below, Jam Hot recommend adding horns and strings to their performance to really create their full concert experience.
LINE-UP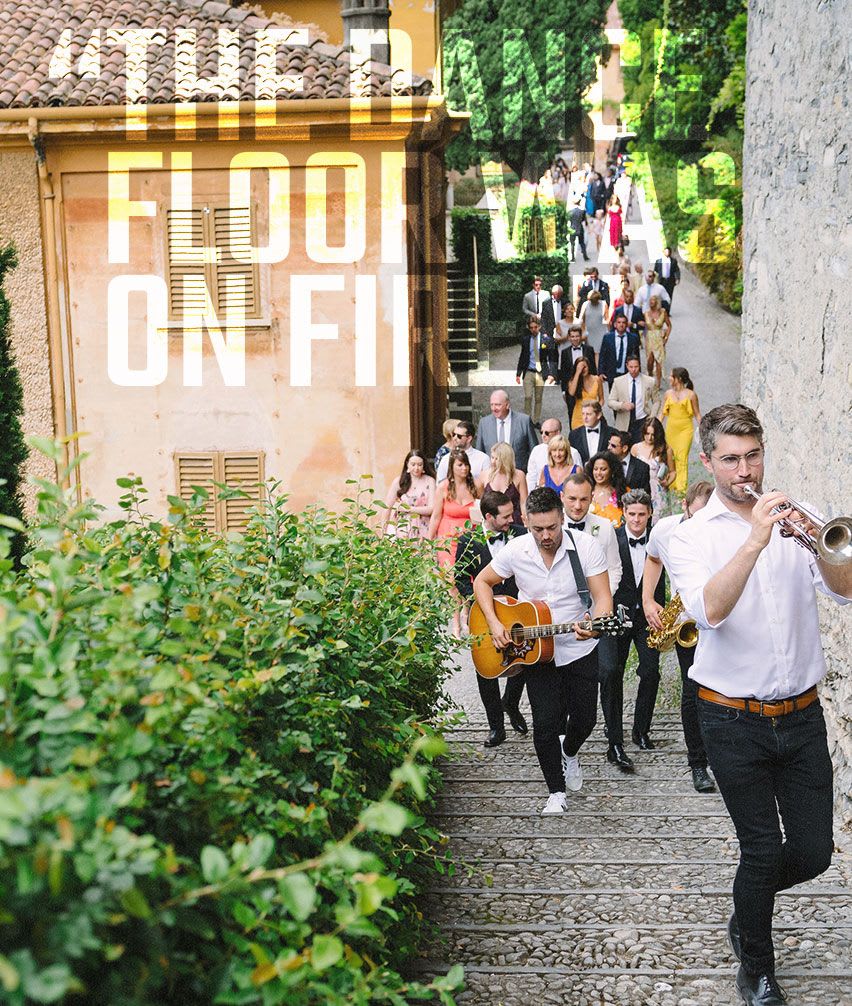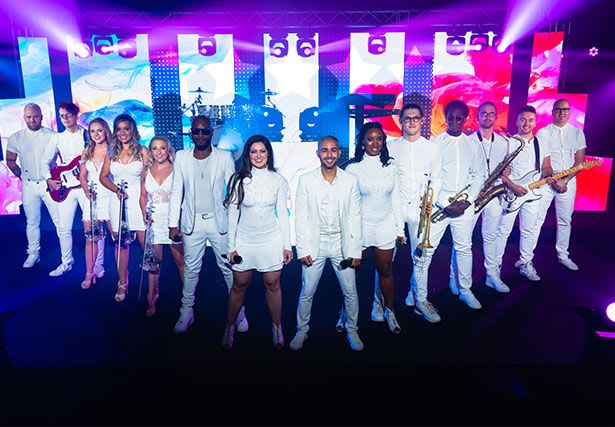 Book Jam Hot as your Wedding Entertainment, France.
This is Jam Hot, and they are bar none the best in the biz. A band first and foremost but also so much more. A 5-star rated group with every client they've ever had, they are the ultimate in Wedding Entertainment France.
With the ability to create the ambient background music for a lovely wine or cocktail reception, play you down the aisle, and then perform a medley of the top music of the past 70 years, Jam Hot covers all the genres from Rock and Pop to RnB, Funk and Soul performing hits from such time-honoured artists such as: Tina Turner, Beyonce, Stevie Wonder, Micheal Jackson, Justin Timberlake, Amy Winehouse, Bruno Mars and so many others!
Get on the train with Jam Hot and Book Wedding Band in South of France. With the power of 4 individual vocalists, a stunning string section and horns to shake the roof, Jam Hot will wow your guests. Their unforgettably choreographed tour de force performance will create memories that last a lifetime.
Get Quote!
Top Wedding Band France
Jam Hot is the biggest name to Hire Wedding Band in France. Top of their class - tried, tested, and true!
This is it! This is your day, and it should be perfect and stress-free. Your guests have arrived and are mingling. You want to set the mood and the moment and the best way to do that is with the powerhouse group that is Jam Hot Wedding Entertainment France - when it comes to France Wedding Band Music this group is the ultimate in client satisfaction and professionalism.
Jam Hot Wedding Band Nice is the preeminent reception band. Their attention to detail is the best bar none, and the customisable experience allows you to choose every element of your perfect evening. From the first dance, the setlist, and even the performers' costumes, every decision is in your hands, but at the same time, Jam Hot will walk side by side with you to help ensure there are no pitfalls on your wedding day.
Watch Jam Hot In Action
Jam Hot Medley Selection
Jam Hot's high-impact setlist is full of spectacularly arranged medleys that move your guests from one blazing hit to the next - all night long!
Jam Hot's Songlist
Performance Map
The Premier Wedding Band in France taking the world by storm!
Alleviate the stress that may come with planning your entertainment with the consummate quality and professionalism of Jam Hot. When you Hire Bordeaux France's Top Wedding Band, you are not only hiring one of the top wedding bands in Europe, but you are hiring peace of mind. Jam Hot are the ultimate performance group, a multi-award winning 5-star troupe of musicians, they specialise in curating memories leaving you and your guests buzzing with joy as you join along singing to the smash hits of today and yesterday.
With a Vegas show vibe, this luxury entertainment crew is a perfect storm of talent and expertise. Jam Hot sets the bar to new heights in France Wedding Band Music. The professional choreography of Jam Hot, along with their sassy audience participation, creates a rollicking good time for all ages. They will tempt and entice you with France Wedding Band Music that doesn't get any better than this! They feature medleys and tunes from the best artists and musicians from the last century.
From Michael Jackson to Coolio, Ed Sheeran and Justin Timberlake, Jam Hot presents a mastery of music with a variety of styles, such as rock n roll hits, pop music, RnB, dance, and Soul. From the stage this group of up to 21 astonishing talents will drive the party, kicking it into overdrive and keep you rocking till the break of dawn! When you are looking to Book Wedding Band in Marseille for your special day, Jam Hot is your perfect choice.
Jam Hot can also be seen performing in Belgium, Holland & Greece, amongst many other European destinations!
Lyon's Choice for The Highest Rated and Most Trusted in France Wedding Band Music and Entertainment
There are a myriad of choices in Wedding Entertainment France. On this extraordinary day you will want a consummate group of professionals with the talent and experience to elevate your luxurious wedding to the peak of excellence. As such you will want to Hire Wedding Band French Riviera, Jam Hot. With this supergroup, your Wedding Entertainment France will be a night to remember. Jam Hot are masterful artists that will charm and delight your guests with a fully customisable show. They will go out of their way to provide you with a carefully curated, fully unique French wedding entertainment experience that puts them at the forefront of Europe's live music performers. Jam Hot is an in-demand Limited Company who are stage ready, time tested, and dependable. Once you initially get in contact with this Wedding Band in Paris, Jam Hot will be your nearest and dearest ally in the planning and execution of your dream wedding here in France.
As a customisable experience, this France Wedding band in Paris allows you to work with them to create the ultimate guest experience. From the moment your guests arrive until the last dance, Jam Hot will be there to provide the appropriate music to set the mood and tone. Alongside their astonishing music, they are affiliated with Artisan Productions. They help to curate the ultimate party with the addition of items such as staging, dance floor and lighting, mirrorballs, dry ice and more!
"Jam Hot are the easiest recommendation I have ever made. Flexible, collaborative and brilliant to do business with comes as standard. But all that aside, musically, they are simply incredible. Beyond being entertained, my guests were literally in love with them and the dance floor was on fire. Feedback included comments like 'I'd pay to see them in convert'. I'm already looking for excuses to hire them again. Any doubts, give me a call."

"Paul and Jam Hot were an absolute dream to work with. They were professional but warm during all of our pre-event communication. Paul was quick to respond and offer suggestions and was extremely flexible and accommodating. Also, they presented a killer show! Our guests were a mixture of nationalities and their music brought everyone to the dance floor. Also, they didn't just stay on the stage, they were in the crowd bringing the dance floor to us. They were just spectacular. I recommend them highly and would hire them again in a heartbeat"
More Reviews
Client Reviews
Reviews
When You Need 100% Guaranteed Peace of Mind, Hire Wedding Band South of France Jam Hot.
Book Jam Hot
Jam Hot is the number one choice in French wedding entertainment. They have the experience and professionalism to ensure your wedding day is of epic proportions. Jam Hot, Wedding Band France are a cosmopolitan group who will be there every step of the way.
If you want to Book a Wedding Band in France, it doesn't get any easier! A simple deposit is all that is required to ensure this high demand band is locked down for your date. From there you can start planning with them in preparation for the biggest day of your life. The booking process is very straightforward and your deposit promises a secure contract that provides the peace of mind to create a stress-free wedding.
Use the Live Chat function now to see if Jam Hot is available for your big day, or you can fill out their convenient form and someone will get back to you right away.
Don't Hesitate!
Now Is the Time to Hire Your Wedding Band in France!
Get Quote!