Luxury International Festival Band
Jam Hot, The UK's Top Festival Showband
Get the crowd bouncing and hire a festival band that is known throughout the world for their unbelievable live stage show!
Get your free no obligation quote!
About Us
High-energy, Raucous Performances That Create An Incredible Festival Atmosphere!
When you want to draw all eyes to the stage, you need the sensational Jam Hot International Festival Band.
Creating a buzz is an essential part of a successful festival vibe, and no one does it better than Jam Hot. They are not the same old style that audiences are bored of seeing - this insane 8-21 piece band are the epitome of high-end entertainment, whose multi award-winning live show needs to be seen to be believed.
Highly experienced, easy to work with and truly dedicated to creating sensational performances - Jam Hot are the perfect addition to your line-up and create a fresh, contemporary vibe likened to the monstrous live festival stage shows of Beyoncé and Justin Timberlake.
"Unparalleled unrivalled unbelievable"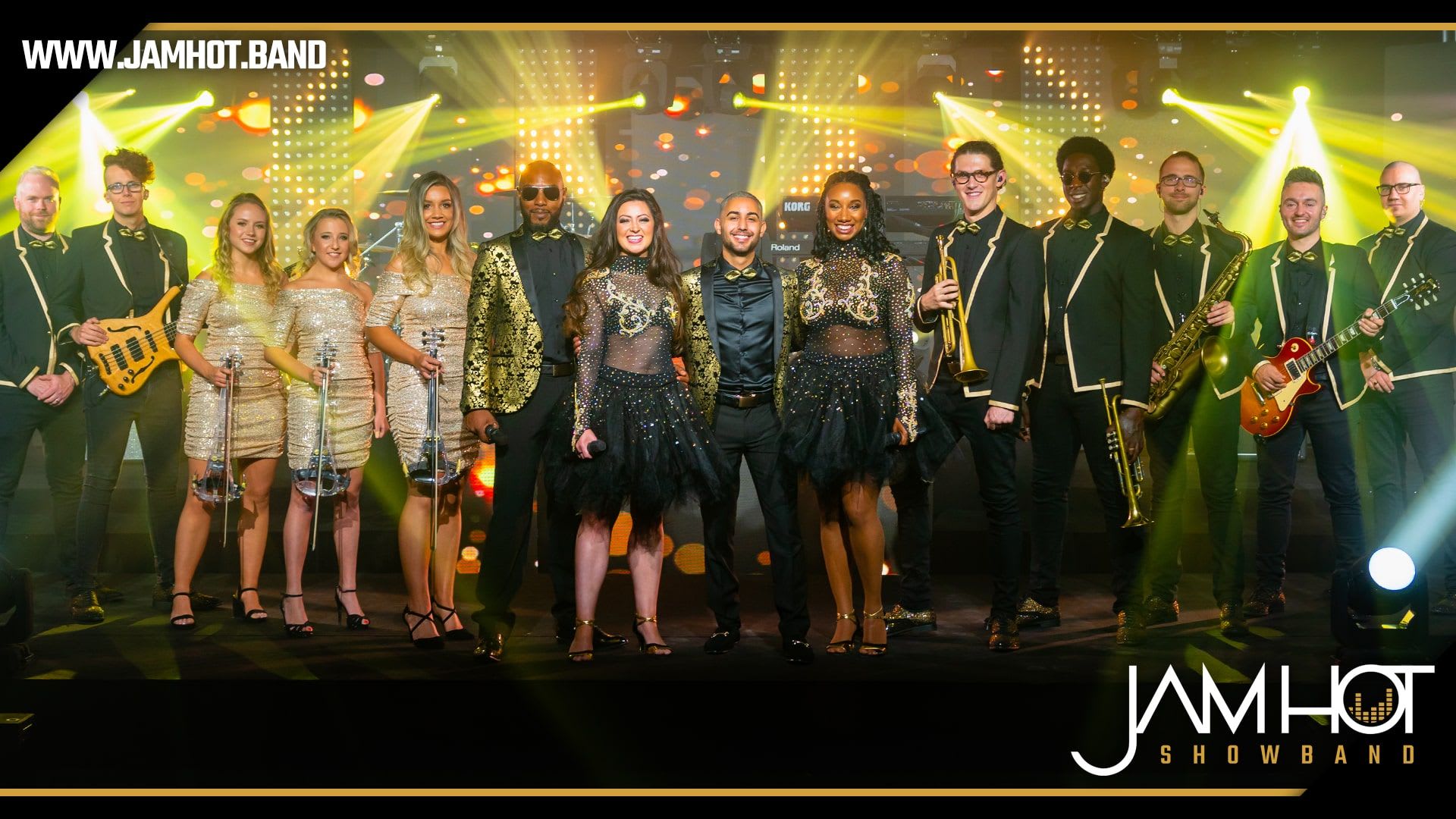 Line Up
Band Line-up Options
The musicians - choose your line-up from the options below, Jam Hot recommend adding horns and strings to their performance to really create their full concert experience.
LINE-UP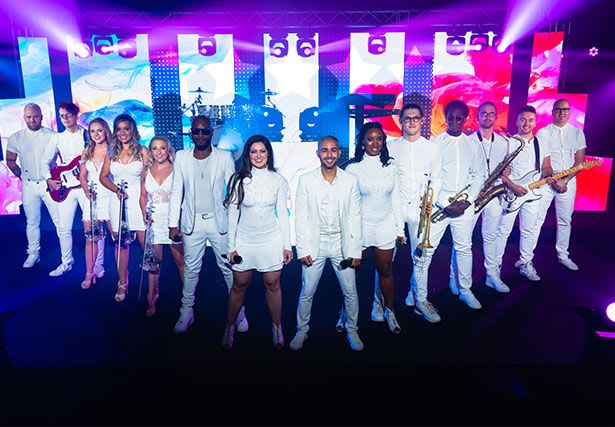 Festival Bands For Hire Don't Get Any Better Than Jam Hot
Jam Hot are experts at dominating a stage and developing a magnetic rapport with their audience. Their high-impact sets are full of sass, fun and fierce musicianship that gets crowds invested in their performance, and coming together as one to create an incredible atmosphere.
Playing feel-good genres including pop, rock, dance, Motown, hip-hop, RnB and soul; and featuring musical giants the likes of Bruno Mars, Ed Sheeran, Beyoncé, Tina Turner, Stevie Wonder and Amy Winehouse - there is something to get every audience member jumping around to!
Festival band performances are all about capturing attention, and that's where Jam Hot Festival Band For Hire knocks everyone else out of the stadium. Their fully choreographed, high-octane show sees every performer dancing in sync and makes impressive examples of their vocal, horn and string sections. Masses of crowd participation makes for incredible fun, and alongside the jaw-dropping showmanship and contemporary costumes, the whole package is a sensory delight and a welcome change for festival goers of any age!
Get Quote!
Top UK Festival Band
An Exceptional Performance, By Multi Award-Winning Jam Hot Festival Showband
With performances at Glastonbury, V-Fest, Reading and Leeds under their belts, the Jam Hot musicians are no strangers to the festival scene.
This raucous live show, featuring impeccably performed medleys of energising pop, dance, hip-hop, RnB, rock and Motown is ideal as alternative entertainment at a major festival, or as a headline performance at a smaller festival. Every song is delivered with their trademark flair and finesse, making this high-end live show a winning addition to the bill.
WATCH JAM HOT IN ACTION
Jam Hot Medley Selection
Jam Hot's high-impact setlist is full of spectacularly arranged medleys that move your guests from one blazing hit to the next - all night long!
Jam Hot's Songlist
PERFORMANCE MAP
Travelling All Over The Globe As A World-Class Festival Band For Hire
Festival performances definitely fall under Jam Hot's remit. Wherever there's a stage to perform on, and audiences to blow away - this International Festival Band is an elite choice!
Crowds can't help but respond to the sheer energy of Jam Hot's charismatic performers. Tightly choreographed routines, inspired by the show bands of megastars like Justin Timberlake and Beyonce, work in perfect harmony with Jam Hot's expertly sculpted setlist of electrifying songs for an utterly exhilarating live music experience.
Their popularity is not simply down to their undeniable musicianship, but from the way they command the stage, mesmerising onlookers with their fierce showmanship and audience interaction - Jam Hot really are the full package!
Jam Hot perform extensively throughout the UK. If your destination doesn't appear in the map, don't worry - they do travel there!
Book A Festival Band That Is Recommended, Seasoned and In Demand
When organising a festival bill, it's essential to book a line-up that is top quality and will exceed all of your expectations. When you add Jam Hot Festival Showband to your rosta, you will be working with true professionals, who are dedicated to creating flawless performances. With 5 Star reviews from every client they've ever worked with, your reputation is in safe hands with these outstanding performers.
The whole process, from initial enquiry, right through the Jam Hot's last note will be a breeze. This established limited company makes the booking process clear, concise and easily navigated - meaning you receive a consistently high level of service in every aspect.
"Your name is correct, that was HOT!!! Thank you so much for making our Christmas party this year. It was all a little dull until you took to the stage and then the atmosphere was buzzing. Will not hesitate to recommend you to anyone and everyone that needs entertainment for their do."

"I just wanted to send a huge thank you for organising Jam Hot for the 77th Members' Meeting Party – they were a huge hit! Please can you pass on my thanks to the band. Jam Hot were a huge success – everyone was talking about them throughout the evening. The music was amazing, they were great to work with and their performances were high energy with song choices that were perfect for the crowd. They were brilliant! Thanks for all of your help in the build up and hopefully we can get in contact shortly about 2020."
More Reviews
Client Reviews
Reviews
Hire A Festival Band That Will Be With You Every Step Of The Way
Book Jam Hot
Jam Hot's expert team specialise in organising top quality events and performances, all over the world. With many years of experience and a true dedication to being the best out there, you can rest assured that you will always be treated as a priority.
A huge range of performance and production options means that your perfectly tailored package is just an enquiry away - and with full support including advice, logistical assistance and swift communication, booking this popular festival show band couldn't be simpler.
A range of ways to get in touch means that your enquiry will be handled quickly. Why not jump on the Live Chat function to see if Jam Hot are available instantly, or fill in their simple online form to receive a no obligation quote?
Book Jam Hot
to add to your festival bill today!
Get Quote!