Hire a Cheshire Jewish Wedding Band
Jam Hot, the best Cheshire Jewish Wedding Band
You've never experienced entertainment like Jam Hot, Cheshire's favourite Simcha Wedding Band for hire.
Get your free no obligation quote!
About Us
Jam Hot Jewish Wedding Entertainment in Cheshire makes planning your wedding easier
Planning a wedding with your fiancé is the beginning of your life together. While it takes plenty of time, patience, and energy, the result is a beautiful experience that you will never forget. That's why it's so crucial that you get everything right. Sure, you have to choose the perfect cake, the right dress, and an artistically creative photographer, but no other detail is more important than your Cheshire Jewish Wedding Band. The entertainment at your wedding will bring your guests together in an uplifting and meaningful celebration of your love. There's simply no other option – you need to choose Jam Hot Cheshire Jewish Wedding Entertainment.
With between 10 and 21 insanely talented musicians on stage at any one time, this award-winning Cheshire Hora Wedding Band specialises in creating a spectacular party atmosphere that will blow every guests' mind. From the very first note they play, you'll know that you've made the perfect choice.
"Unparalleled unrivalled unbelievable"
Simcha Dancing
Line Up
Band Line-up Options
The musicians - choose your line-up from the options below, Jam Hot recommend adding horns and strings to their performance to really create their full concert experience.
LINE-UP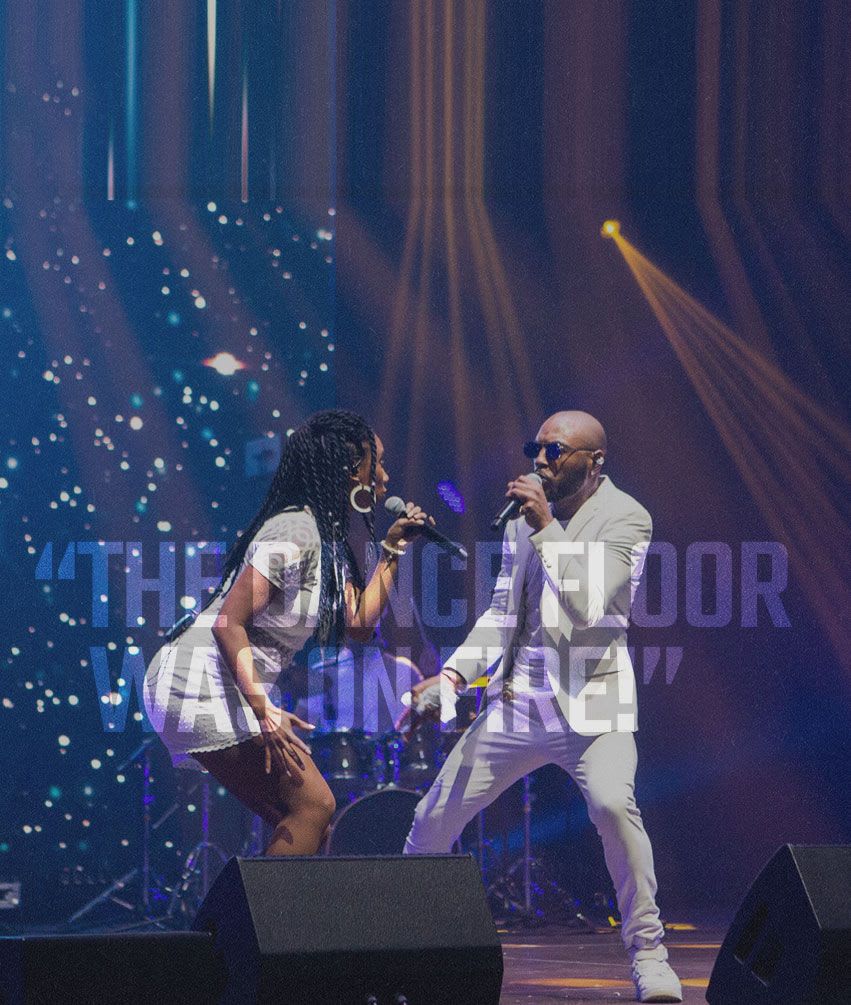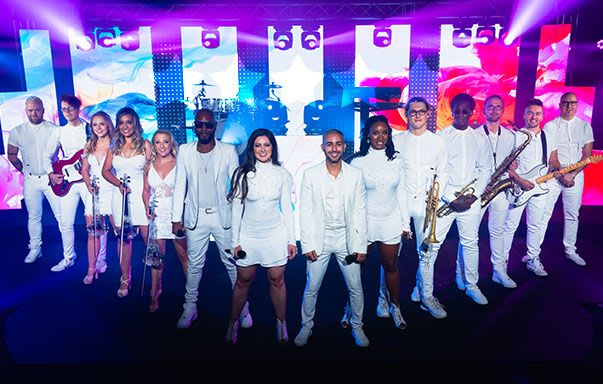 Jam Hot, Cheshire's best Jewish Simcha Wedding Band
Jam Hot are the country's best provider of live Cheshire Jewish Wedding Entertainment, and luckily for you, they are available to perform Cheshire Jewish weddings! They know exactly what kind of music you and your guests want to hear. They've put together an elite showcase of some of the best musical artists in history. Your guests will be begging for more of their signature medleys, seamlessly combining the greatest hits from Michael Jackson, Beyoncé, Justin Timberlake, Drake, Stevie Wonder, Jess Glynne, Tina Turner, and Bruno Mars.
They cause a commotion, blending the best songs, professional choreography, audience participation, and a wild light show. Do you want something extra special? Jam Hot partners with Artisan Productions to bring you any additional production elements that you desire. A lit dance floor, confetti cannons, glitter balls and dry ice – your wish is their command.
Get Quote!
Top Jewish Wedding Band Cheshire
Hire a Cheshire Simcha Wedding Band who knows what you want
Every moment of your special day should be full of joy, laughter, happiness, and jubilation. Jam Hot, sublime Cheshire Jewish Wedding Entertainment, is known throughout the country for their passion and attention to detail! They care as much about your dream Wedding as you do. Starting with their elegant Chuppah ceremony music and through to the riotous songs they play for the evening party, you can customise every detail.
Jam Hot adds their brilliantly talented Israeli vocalist/acoustic guitarist for all Jewish events. That ensures that you have beautiful Chuppah Ceremony music that will bring a tear to every eye. After the sophisticated ambience of your Chuppah and drinks reception, it's time to really start the party! Jam Hot takes things to the next level like no other Cheshire Jewish Simcha Wedding Band. The dedicated Israeli vocalist will lead Jam Hots' beloved Simcha Dancing Medley, delivering a high-octane start to the raucous evening celebrations! Do you want to add an extra special touch to your reception? Jam Hot will take the time to learn a bespoke version of your favourite song or first dance. This is a beautiful experience that will become a deeply treasured memory.
Depending on your entertainment budget and preferences, Jam Hot are available in 2 formats. 'Structure' includes 3 sensational hours of live, full band sets alongside their Simcha Dancing Medley and a playlist DJ service to keep guests entertained during band breaks - or choose 'Freedom'. This option sees Jam Hot playing live for your guests, all night long! With a stunning range of instrumental and vocal performances throughout the entirety of the evening - your guests will be blown away by the sheer talent and variation on offer.
Watch Jam Hot in Action
Jam Hot Medley Selection
Jam Hot's high-impact setlist is full of spectacularly arranged medleys that move your guests from one blazing hit to the next - all night long!
Jam Hot's Songlist
Performance Map
Jaw-dropping entertainment from Cheshire's Favourite Simcha Wedding Band
When it comes time to Hire a Jewish Simcha Wedding Band Cheshire, you need to be sure that you can put your entire trust in the band. With Jam Hot, you'll know that you're dealing with world-class professional musicians who have years of experience and a true passion for their art. They have been touring the world with their spectacular show for over a decade, and they have the 5-star reviews and customer testimonials to prove their prowess. You can trust them to be the best Jewish Wedding Entertainment Cheshire has ever seen.
Every musician in the Jam Hot company views themselves as part of so much more than a 'band.' They are a fully immersive experience, putting on true feats of showmanship that hypnotise every guest that witnesses their show.
Cheshire Simcha Wedding Band Music simply doesn't get any better than Jam Hot! These consummate professionals put on a killer show inspired by the biggest stars on the planet. Icons like Bruno Mars, Justin Timberlake, and Tina Turner don't just stand there up on stage, singing their songs – and neither do Jam Hot! They take to the stage like a hurricane, immersing your guests in a whirlwind of the best tunes, outrageous dancing, and more love than you can imagine.
Jam Hot are regular performers throughout the UK, often performing in Manchester in the North West, and London, Surrey & Essex in the South East!
Jam Hot perform extensively throughout the UK. If your county doesn't appear in our map, don't worry - they do travel there!
You can always rely on Jam Hot to play the best Cheshire Jewish Wedding Band Music
Hiring a Cheshire Simcha Wedding Band can be stressful because you want to ensure that they care as much about the success of your wedding as you do. From the ambience of your Chuppah Ceremony to the wild party of the Simcha, you're making a big decision. That's why you can put your full trust into Jam Hot. They guarantee a true luxury experience that will go beyond your wildest dreams.
You can trust Jam Hot – they are an established and highly recommended Limited Company. From the first time you enquire with them to the final chords of the party, they look after you with the elite customer care that you deserve. With the help of their dedicated customer service team, you can truly customise your Cheshire Jewish Simcha Wedding Band performance package. They've played weddings at Peckforton Castle, Dunham Forest Golf Club, The Pinewood, and the Heaton House Farm. Don't see your venue? No problem – they play simply anywhere that is suitable for their astonishing show.
"You preformed at our wedding in March 2019. You were AMAZING and made everything so perfect for us. The whole party were talking about how phenomenal you were and even still do to this day. You had everyone on the dance floor all night long which was exactly what we had hoped for. I don't think you could have done anymore and really kept your word by creating that party atmosphere you promised us for our wedding day. The music was perfect, the medleys were amazing each and everyone of you gave it your all. I would recommend you to everyone without a doubt. Thank you so much!! Wish we could do it all over again!!"

"A 5* performance all round. From the moment that we first made contact, everything about Jam Hot was professional and friendly. All of our other suppliers involved meetings and recommendations but a video online of Jam Hot performing was enough to know that we needed them for our special day. The not only didn't disappoint, but they exceeded our expectations unbelievably. We had so much fun, we didn't stop dancing, I wouldn't even go to get a drink for fear of missing the next song. Everyone raves about you even to this day. Thank you guys, you really did make our night absolutely magical."
More Reviews
Client Reviews
Reviews
Jam Hot Cheshire Jewish Wedding Band has a dedicated customer care team
Book Jam Hot
From your first contact with the Jam Hot customer service team, you'll know that you've reached out to the right Cheshire Jewish Wedding Band. They specialise in high-end events and Weddings, giving them the experience and demeanour that you need for a perfect day. Jam Hot is always happy to liaise with your Wedding planner, venue, and other suppliers, making sure that every aspect of the day comes together seamlessly.
From Chester to Liverpool, Warrington to Bolton and Crewe, Jam Hot have wowed audiences throughout the Cheshire area. You can trust in their clear and concise booking process, and they'll issue you a secure contract to guarantee your booking. You only need to pay a small deposit, with the rest of the fee to be paid a week before your Wedding.
Getting in touch with Jam Hot is easy – use their Live Chat function for an instant response, or you fill in their simple online form. They'll get back to you shortly with a no-obligation quote.
Don't Delay!
Book Jam Hot for your Cheshire Jewish Wedding!
Get Quote!